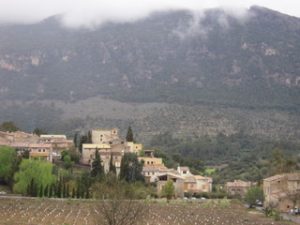 March 31: Sitting here at the bar with the guys so can't stay on toolong (using someone else's computer). today was in the pouring rain. another 60 miles (not 80 as originally planned due to the weather). learning how to ride in line which is something I haven' t done before. alot of technical stuff to learn. Looking ahead, trusting the guys in front to warn of impediments, what to call out and what to show, not drinking or doing anything if one is leading the line, never stop peddling no matter (almost) what. Decided I need to remove my Garmin from the handle bars because i constantly look down to check grade or rpm and it distracts and i weave. made a big difference. also, i notice how 'a-d-d' i am. distracted by scenery, sheep, houses, estates. all causes me to weave. so this is an exersize in non-distracted focus. not my strong suit 🙂
was so wet outside that my feet were swimming in the shoes. i tried drying them with the hand dryer inthe mens room. it worked though it was really funny. anyway, it was a great ride. the vistas were amazing. the hills intense. the group ride very strong. needed to be careful not to go off the side of th e road. the grit, water and mud kicked up by the bike in front of me rendered me nearly blind. it should rain the rest of theweek. most of the people in the hotel are brits and germans. all hanging out at the bar… some germans come over to say hello. nice gesture. like a ski lodge. Went out for dinner. great food, drink and fun.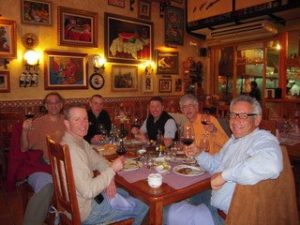 So the trip was about 3,200 ft of ascent, about 4 hours. The major peak was coll d'orient at 498 meters. it was about a 4km climb at 5%. rolling meadows, beautiful peaks. enjoy the pics. Oh yes, held my camera in my left hand and shot video going down the peak. dangerous.
almost forgot to mention i got my first flat yesteray. couldn't get it working on the road. exchanged wheels etc. guys did a valient job trying to make it happen on the spot.