Thanks to my brother Avi for the iPad transfer gizmo. This allows me to plug a SD photo card from my camera into my iPad.
Some of my other gizmos: iPad with BlogPress App. Allows me to write blogs contemporaneous with the climb.
3 different charging units: 2 are solar for the iPhone and one for the iPad. The iPad one was great, called New Trent. Solar was not that great. Also little reception for the iPhone, so a waste.
Garmin foretrex 401. Did not allow saving of daily treks so of limited use. Altitude was always off by 100-200 meters in any direction (then again, same could be said for almost every barometric based altimeter — big issue). Tried using the iPhone treking software I have (called Cyclemeter) but it depleted iPhone charge faster than the solar. This is ultimately the best solution for tracking the climb but need a better charging solution for the iPhone. But was able to use Cyclemeter for the safari so you will see those daily treks and stats.
Drift video camera for the climb. You will see examples of how that works.
Ori also brought a simple and high end camera. We have combined all our photos.
Bottom line: if you want to track your trek and blog about it, an iPad and iPhone will work fine if one brings a few New Trents or equivalent. Oh yes, back-up batteries for all the cameras. You need to think how you will keep these batteries at room temp as you climb higher because the conventional wisdom is you will lose charge as it gets colder.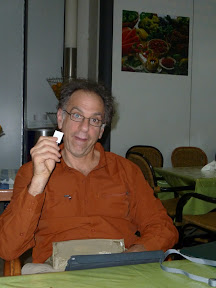 – Posted using BlogPress from my iPad