Leaving the camp, we crossed a series of small rivers swollen from the nights rainfall with some pretty cascading waterfalls.
This lead to today's climb up the cliff which was slow and tedious because of all the "traffic" of climbers from different paths all converging on Barranco. The cliffs are sheer, straight up attacks. The rocks were slippery and I did slip once. This is the Barranco Cliff you climb. Not sure you can see the people zig-zagging up.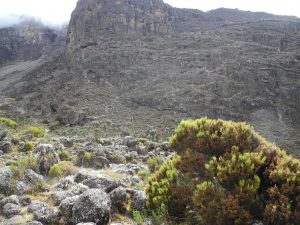 But because of the mix of traffic between climbers and their guides and these amazing porters climbing with packages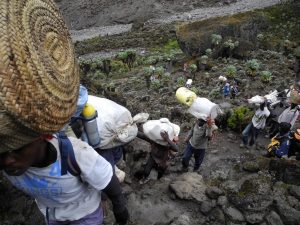 on their heads straight up the cliff it allowed for altitude adjustment, catching ones breath and amazing vistas below. I also wanted to mention the fact that everyone always gave way to the porters so they could continue unimpeded.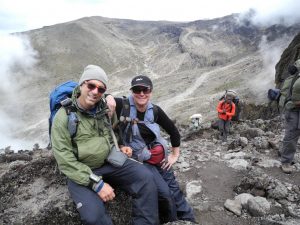 Above is Sandy and me at the top of Barronco Cliff.
From the cliff we entered a misty expanse of beautiful gardens, exotic plants and haphazard rocks and boulders.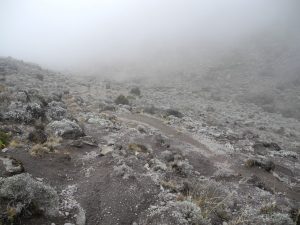 as part of this trek, I took the Drift perspective camera with me. Here is an example of the terrain and the group hiking together.
At one point we found this beautiful small cave-like area. Annie decided to leave a candy to the gods to pray for safe passage and good weather. I made some irreverent remarks. Would this come back to haunt me later?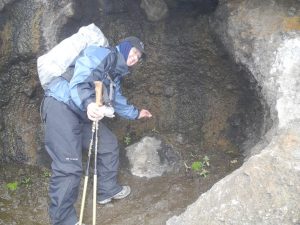 The path continued up and down various ledges with at least two more climbs till we reached our camp at 2:30. I was exhausted. I do not think I slept well from the night before because of Ori and my day pack felt heavy. I also felt sad about Ori but was relieved that I was with the group and was not climbing alone. Carol used the Lifewave patches (like I did) from Ori and found they really worked. I think they worked as well. She gave this video testimony.
The end part of this day was tough. I was tired and it took me a while to join everyone in camp. This is Karanga camp. Everything is on a incline and it was cold and rainy.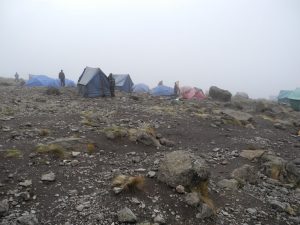 After lunch I took a wonderful nap.
– Posted using BlogPress from my iPad