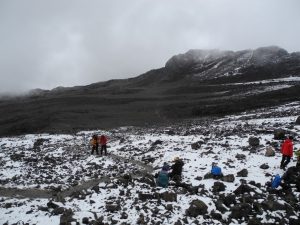 Today we made the ascent of about 600 meters from Karanga camp to base camp for the final assault, or Barafu. This was a 4 hour hike from barren volcanic rocks of every conceivable shape and size to the snow line and then a final 200 meter hike to base camp.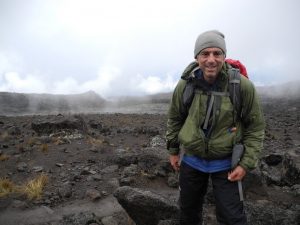 Our final elevation is about 4,673 meters or 15,325 ft. Never been this high except in a jet. Wow. Barafu means ice in Swahili but it is more like mud. Mud everywhere. And people everywhere. The weather changes by the minute here. And the height means thin air and you got to move slow and take it easy.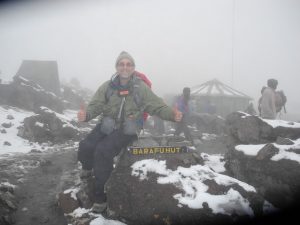 Since trekkers are going both up and returning from the peak you get a sense of what they went through to make it. I realized it is not a good thing to talk to others about the experience. Each is different and mine will be different. Don't need their connection in their head. Period
Now it's not just the body – it's really a head trip. We eat dinner at 5 pm and sleep till around 1130 pm so we can start the climb by midnight. The objective is to make the Uhuru peak by sunrise. The highest spot in Africa and the worlds highest solitary peak at 19,340 ft or 5,896 meters or a change of elevation of 1,300 meters in one night. It is serious and severe. Not to be taken lightly. We are supposed to be climbing near a full moon but there have been snow storms so who knows. Water freezes so not sure what we will drink. Now all the preparation and practice will be put to test. I see climbers of all ages – some people in Norway look like they are in their 70's but the average age looks around 40. Why people come to do this crazy thing is all over the place. But I would say the over reaching idea is that Kilimanjaro is there to be had.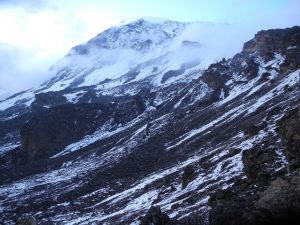 This is Kili view from Barafu Camp.
I think all of us in the group are little scared from what we heard from the German who just came down and the effort it took to get so high. But I think we will all make it. It's now 3:45pm. I am going to rest till dinner and continue my thoughts after I descend.
– Posted using BlogPress from my iPad