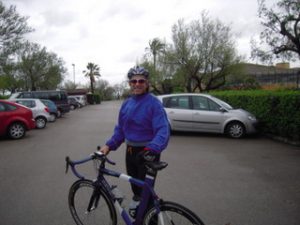 March 29th. Major rains completely wash out the morning ride. and cold — wow was it cold. The afternoon though was a nice ride though the surface was wet. 40 miles with one hill of 7 km at 5% or better grade. So this was it. my first climb. Steady, 75 or so rpm. Did not want to go to the last gear and did not. Paul was impressed with my cadence. And i wanted to go faster but was happy with the first result. Resisted stopping to take pictures so i could make the assent (575 meters peak) with the switchbacks without a stop. what i found most interesting is how my HR was so high (152) in the beginning and then once i settled in, it went down to 138-142 and i felt great. stronger. more in control.
the ride back was great. still scared of the downhill speed. that will take time and didn't trust the wet surface. but the return flat was exhilirating and fast. Fred and I caught up but taking turns being lead. That was also powerful to have that much extra energy through drafting.
About 2.30 hours.
Here are some photos of starting off.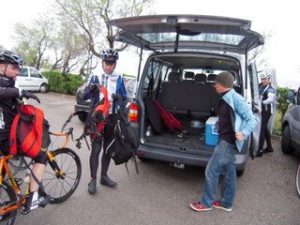 Here is Paul who own Signature Cycles where I bought my new toy (a Seven custom bike) and he organized this trip (his first one organized by the store in 10 years!)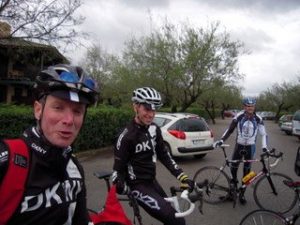 Meet Fred from NJ and FL. Really fun guy, about same age but boy is he strong. We connected from the time we met in the airport.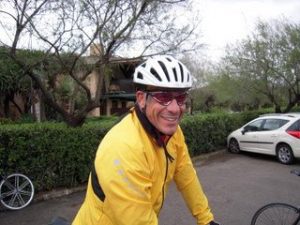 This is what the hills look like on the way up.
Here is Fred (no pic of me it seems) at the top of the hill of the first (and last day).
Nice luncheonette inside.