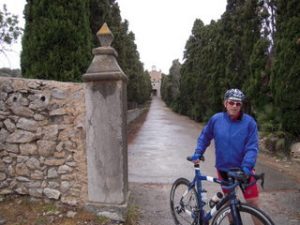 March 30th: Wind and rain. What a day to ride. Set out around 10:30 into a light rain that continued with increasing and decreasing intensity all day. We are staying in a resort which is lays on the Northern coast of the island. So the approach is flat. So the day starts with easy spin for 30 minutes or more which is great to work out the legs. Then the rolling hills. Today there was alot of truck traffic where we were heading. The line is two abreast. I am one of the line "deviators" getting feedback on it but still need to learn. We end up in this quaint town (I really do not remember the names of these places which is a shame), with a lovely hotel and bar. But first they say we have a 18 km loop. we can also hang out and not take it. None of us opt for that. We are here to ride.
That loop was amazing. A 4 km switchback ascent at an avg 7% in the most lovely valley up this hill. Strong ascent. Just work it out. No prisioners. At the crest there is a switch back descent
about half the length and at the end a beautiful monastery. Damn I did not write down the name. The descent, btw, had vistas overlooking the bay and a resort. You'll see the pics. Was just beautiful. Since it was one way in and out. We needed to rescend and descend. Then the return trip. On the final long hill. I can't tell you what happened but i got this burst of energy and just went ahead of the whole pack. It is invigirating. Must of pulled half mile ahead and then kicked back and waited and then did it again. It was a great feeling of the training kicking in. Still can't keep a straight line. Damn. Too distracted.
Return around 3pm. So this was about 56 miles. 3,000 ft of ascent. about 3.75 hours on the road.
Oh yes, lots of groups o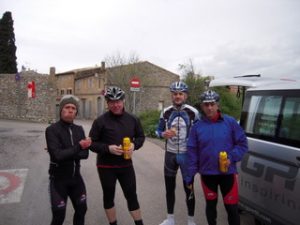 n the road. What a cyclers paradise.
Here I am standing (I am on right) with L-R, Mark who runs the touring company (top bike touring company — highly recommend: GPM10), Tim and J.J.