Today started off with the fact we knew we had a long day with lots of climbing and a descent. What I did not count on was the wind chill, light snow, bitter winds (I know that creates wind chill but it bears repeating) and, the coup de grace, light rain towards the end. I also did not count on the amazing vistas, the descent through an exotic arctic desert filled with fantastic plants that may have inspired Dr. Suess, petite waterfalls of pure glacier melt and a moment opening in the clouds revealing an absolutely stunning contrast of greens, browns, oxidized rocks with the clouds marching in and out.
After a small headache and 800 mg of ibuprofen. I am feeling okay. I also take two 250 mg of a med to reduce the effects of altitude sickness. Crazy.

The plan is to hike to Lava Tower at 4,600M and then sleep at 3950M. The principle is to climb high and sleep lower to facilitate acclimatization.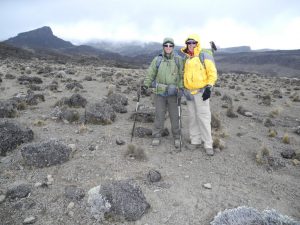 The initial climb was in blistering cold wind. In our face the entire time. The landscape was becoming increasingly sparse as we made this climb. We were now climbing as a team: Vic and Deb with Sandy all from Canada and Annie and Carol from Scotland with Ori and myself. It felt so much better to walk as a group.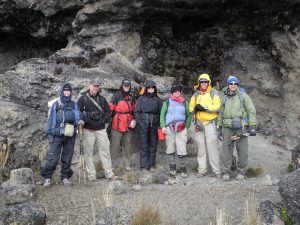 Once we got up the first part, it flattened and then started the second part of the climb to Lava Tower. As we made the climb, suddenly Carol fell to her knees and could not move an inch forward. She had an attack of altitude sickness that completely depleted her. We all gathered around to give her support and stay with her. Vic took her day-pack. I have her energy bars and we waited till her strength returned (and lack of nausea) to start the climb. Afterward, she said that her ability to continue was totally based upon the strength she got from the group. You can see Lava Tower in the background.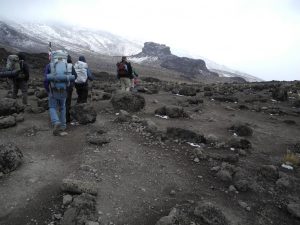 We began our descent to Barranco camp. It took us through some very strange vegetation.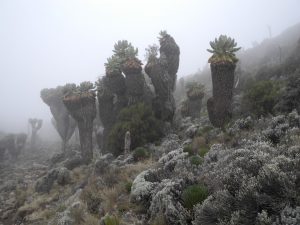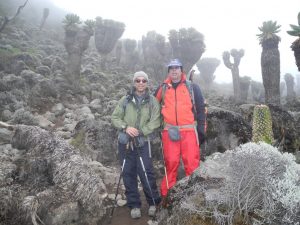 It started to rain. Ori and I were dead tired when we got to the camp. Approach to Barranco Camp: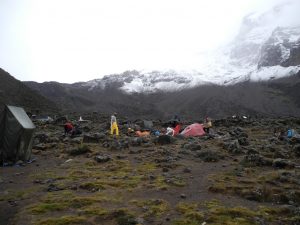 At camp, Florence was excited to tell us the news: That Vic and Deb's guide, Rayman, had agreed to allow us to eat in the tent. We were ecstatic. When our waiter went to arrange dinner, however, he was told by their cook that this was not true and he would not allow us to eat with them. At this point I as beyond pole-pole. I could not believe they would do this and not listen to their own customers. Vic went back to Rayman and he spoke to the cook and, in the end, we were allowed to join the other 5 (Carol and Annie were already eating in the same mess tent because they were from the same outfitters — but even that took negotiations.) I was even more "relieved" when Deb suggested I use their outhouse tent. A toilet at last.
Ori was really very tired and did not look that great. But knowing we were all together, he came to eat with us. We were all very tired, wet but excited about climbing the famous Barranco Wall the next morning.
Ps. Last night it rained all night and is still raining now. Ori was coughing all nigh and sounded horrible I hope he is not sick. (wrote this in the early AM)